Spain: Alhama de Granada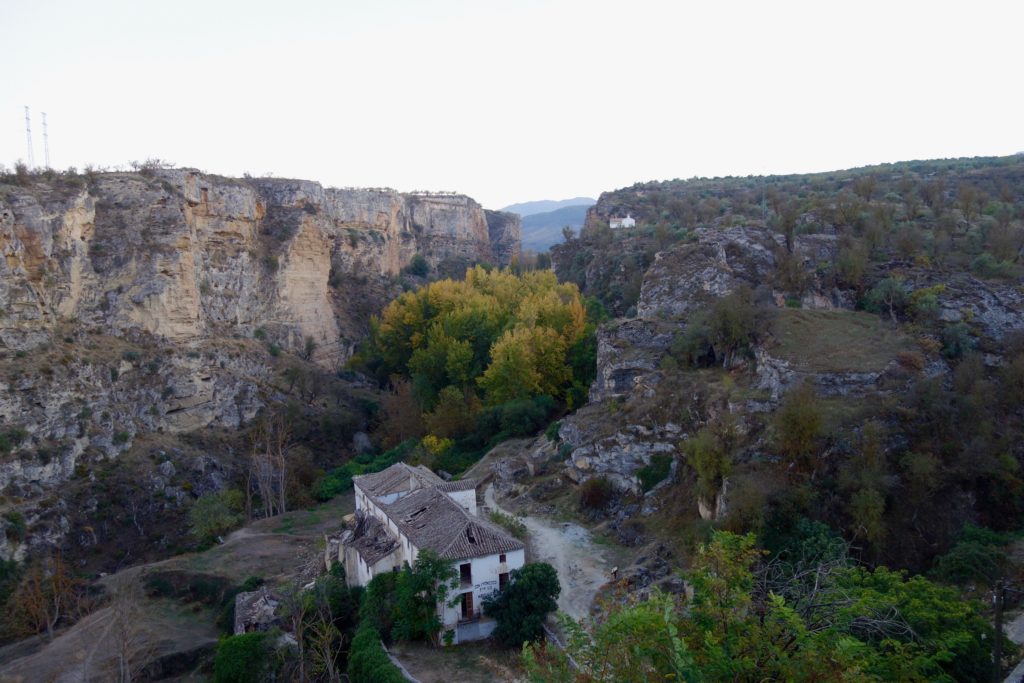 I knew when I was planning this trip that I would regret going to Granada at the cost of an extra day in Alhama. Villages are where it is at, folks, I'm telling you.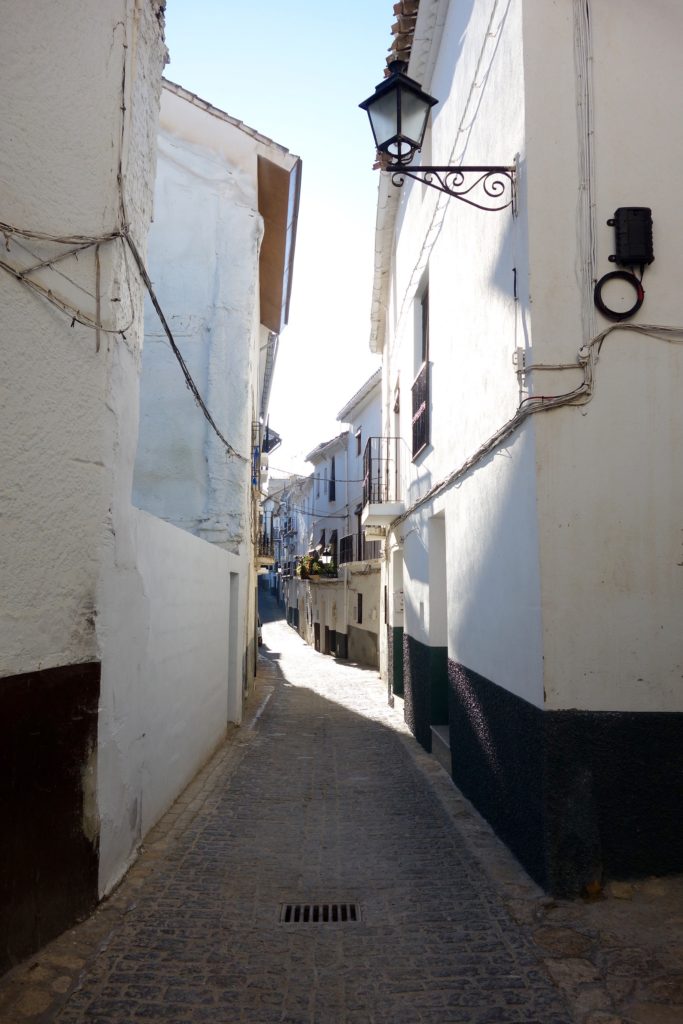 Alhama de Granada is about an hours bus ride west of Granada city. We stayed in an AirBnb down one of these white plaster alleys. It's a cute little village, with a fairly modern hub, residential streets like this, and two nice old churches. It's considered one of southern Spain's White Villages and it has a long history.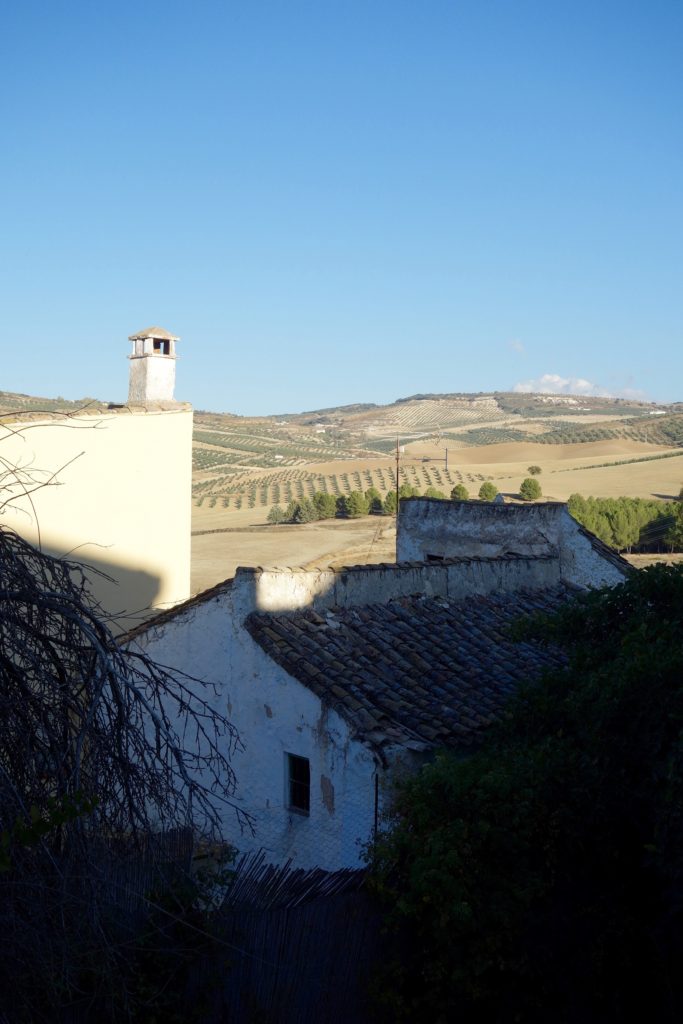 This is the view from our patio. Much of this area is covered with rolling hills of olive groves.

The village is up on a hill and around it's back runs a beautiful gorge. You can take the frighteningly steep Devil's Staircase to get down into the gorge from town. We went for a walk down here one two separate days.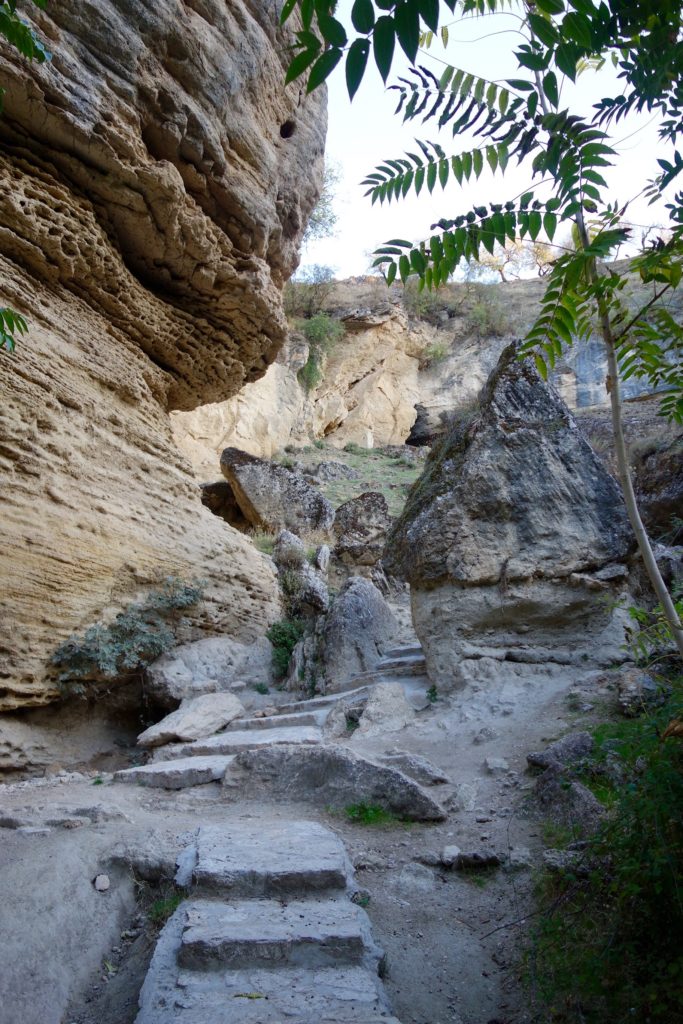 The gorge is surprisingly dramatic. It's maintained well for public use, but feels suitably wild.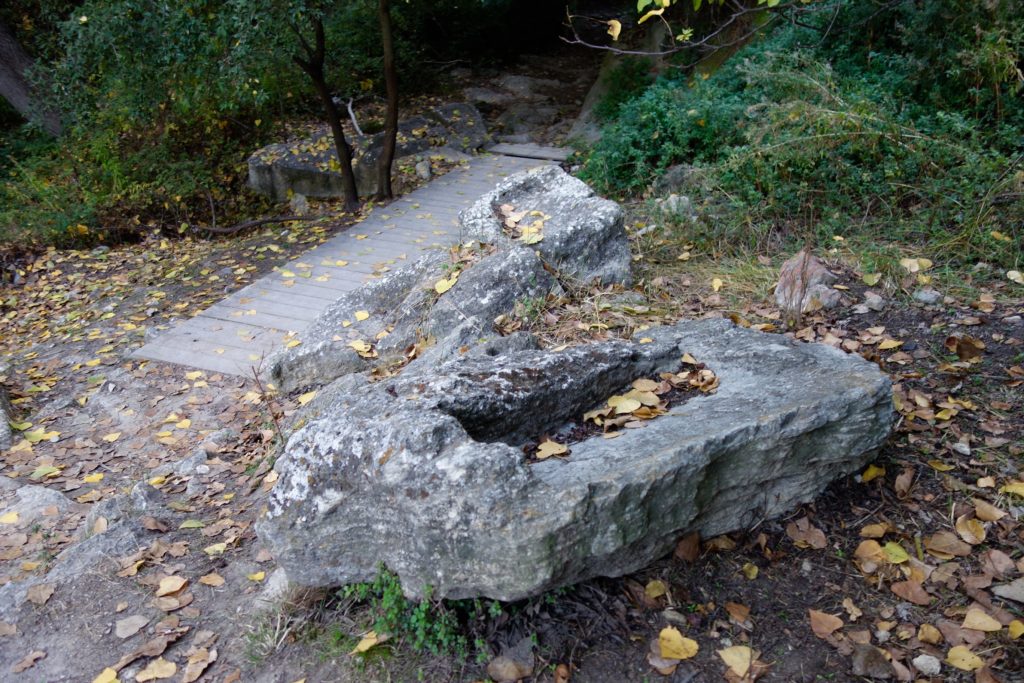 Locals have used the gorge for centuries. These stone washing basins where used by the village grandmothers to wash clothes all the way until the 1950s, when utilities finally made it to Alhama.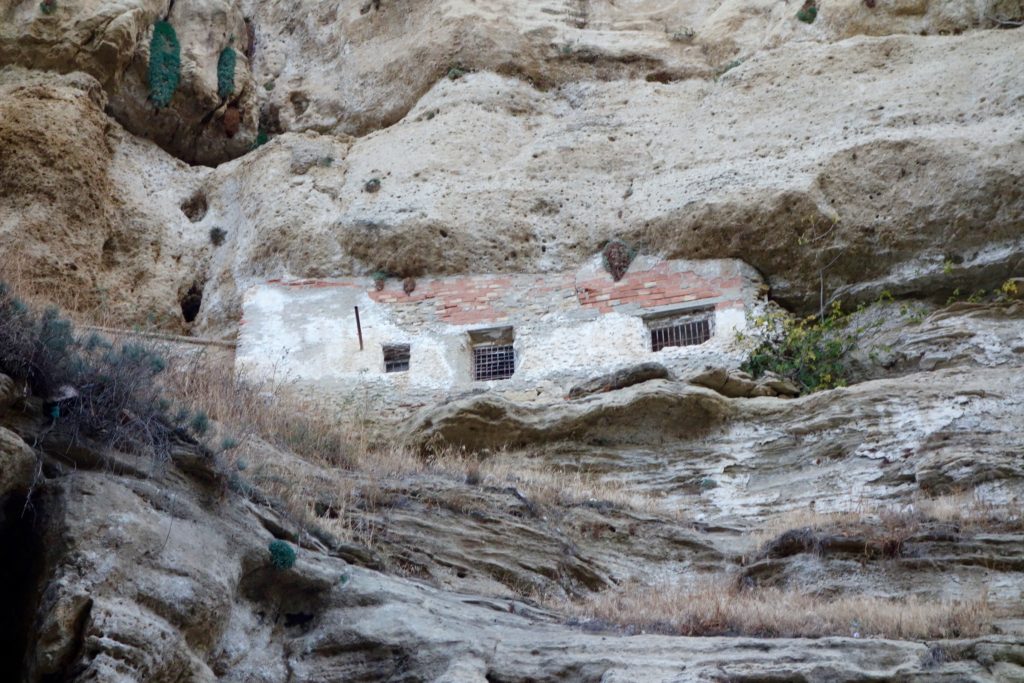 The gorge was also used my monks and hermits. There is still an active church to Our Lady set inside a cave.
Here is me chilling in the doorway to a Hermit Hole.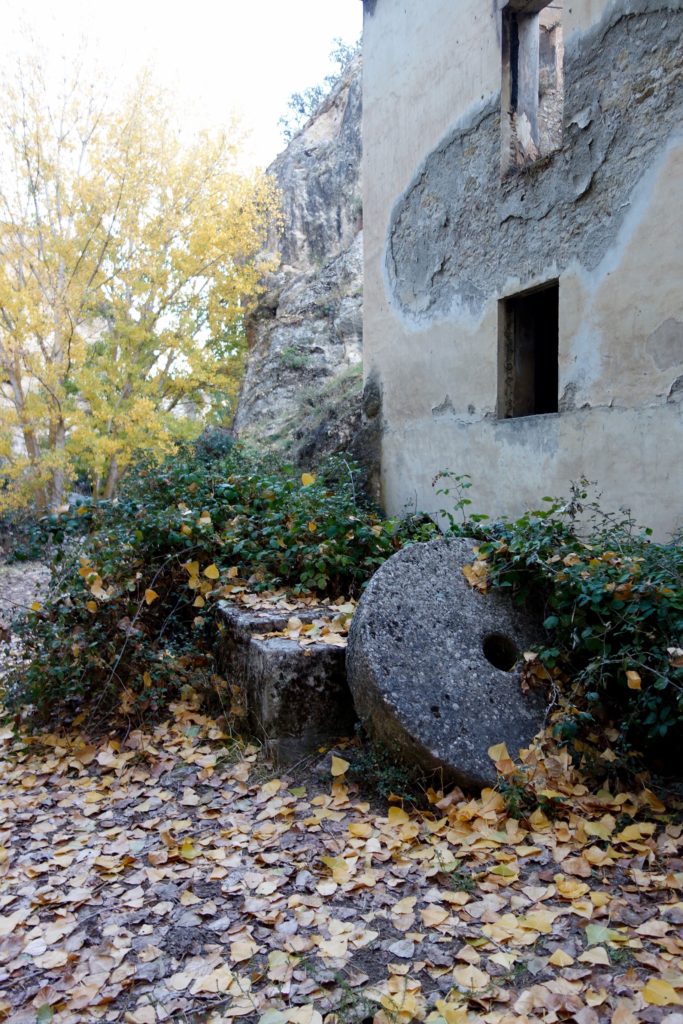 Along the crick is the remains of an old flour mill. Here you can see the the old grind stone.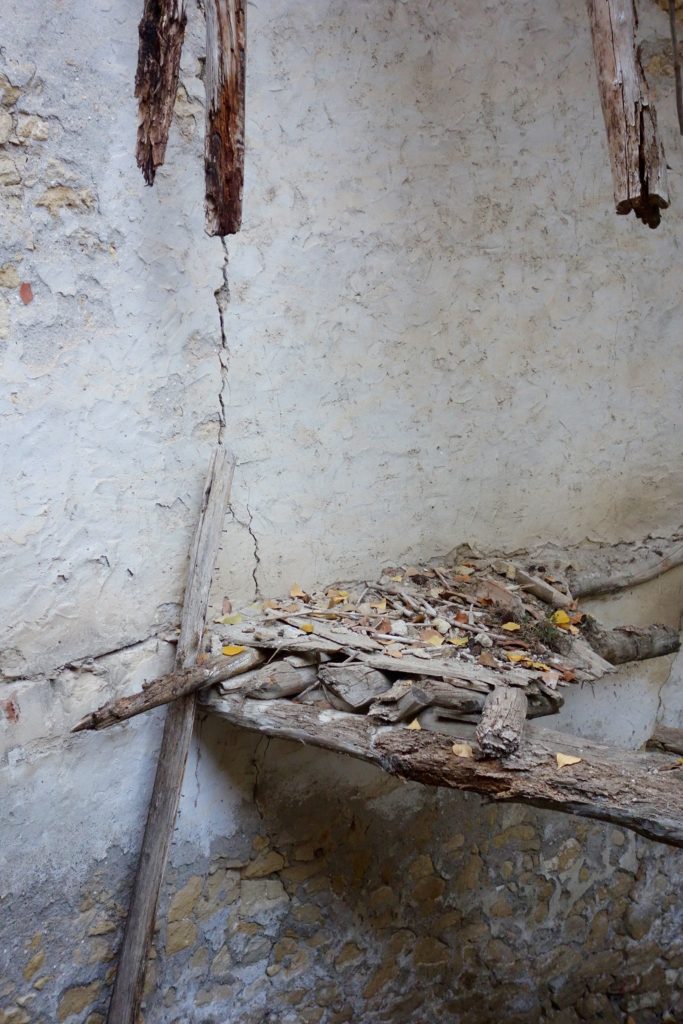 There are quite a few buildings along the way that were part of the mill, but they are all in extreme disrepair. It's beautiful though!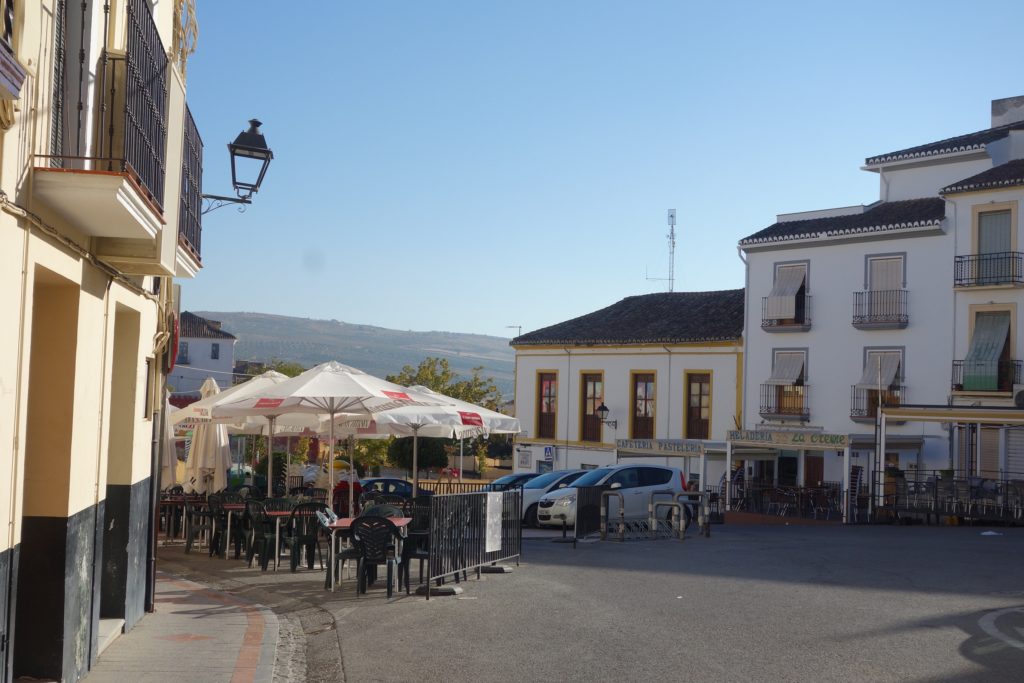 This main square is the heart of night life in Alhama. Each of these places is a restaurant and there were a dozen more beyond this square. For such a small town there was no shortage of bars!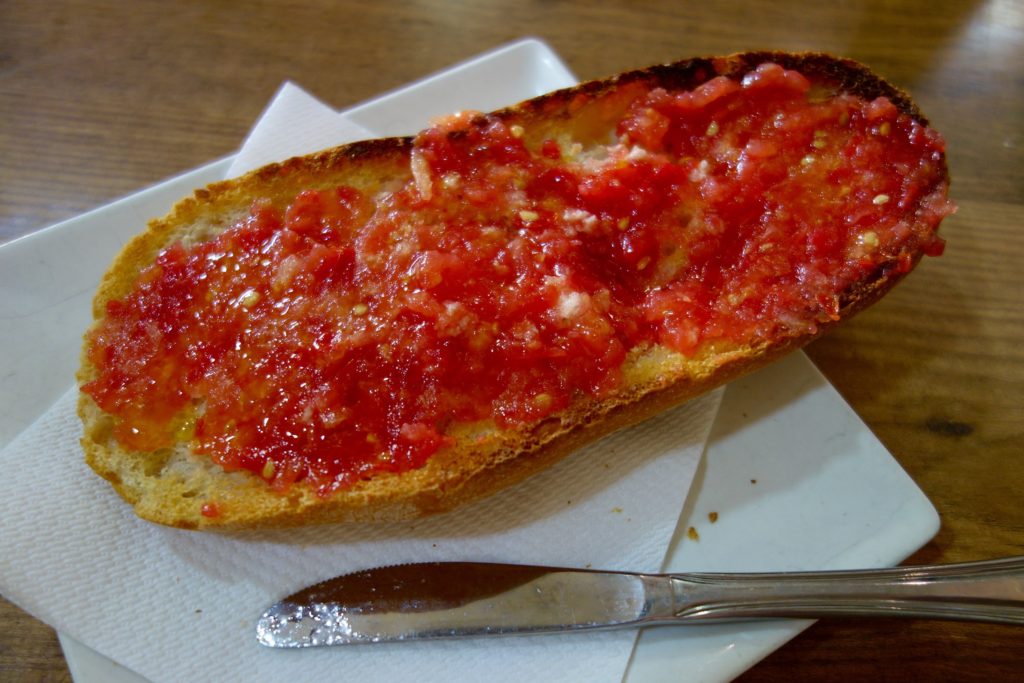 Every morning we had breakfast at the local cafe. We ordered the same thing each time because we heard it was the typical thing to have here. This version of pan con tomate was served differently than I had in Barcelona. Here they served a toasted loaf with a homogenous mash of fresh tomato on the side. You smear it on yourself and add olive oil to your liking. In Barcelona, they sort of rubbed the tomato straight into the toast like a coating.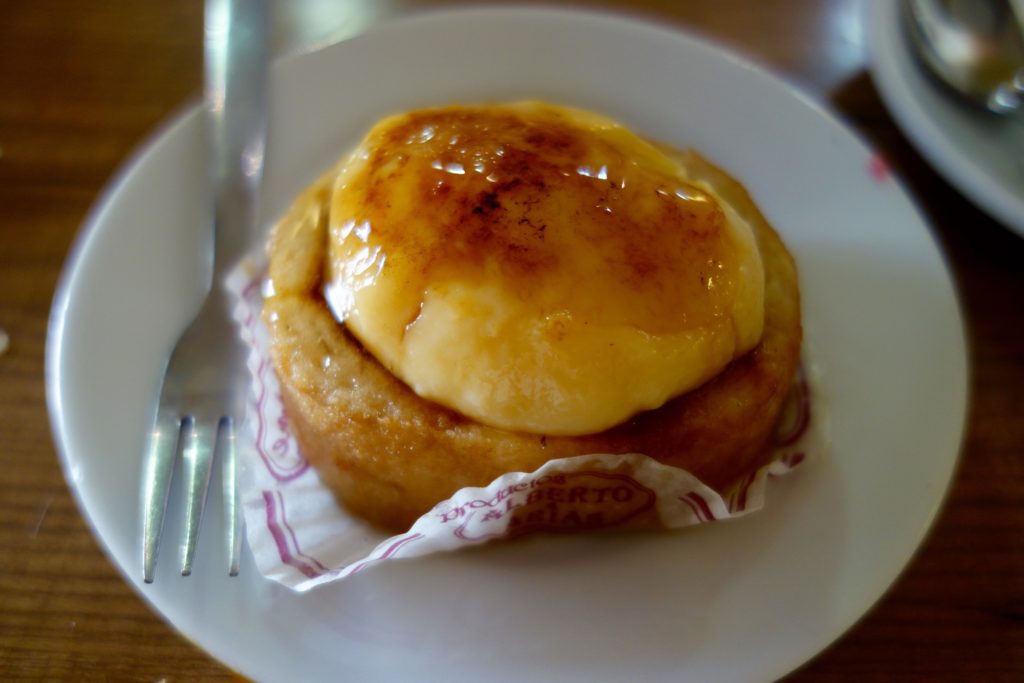 After my toast, I'd pick out a new dessert. This was a custardy tart thing. Obviously it was amazing, I love mush food.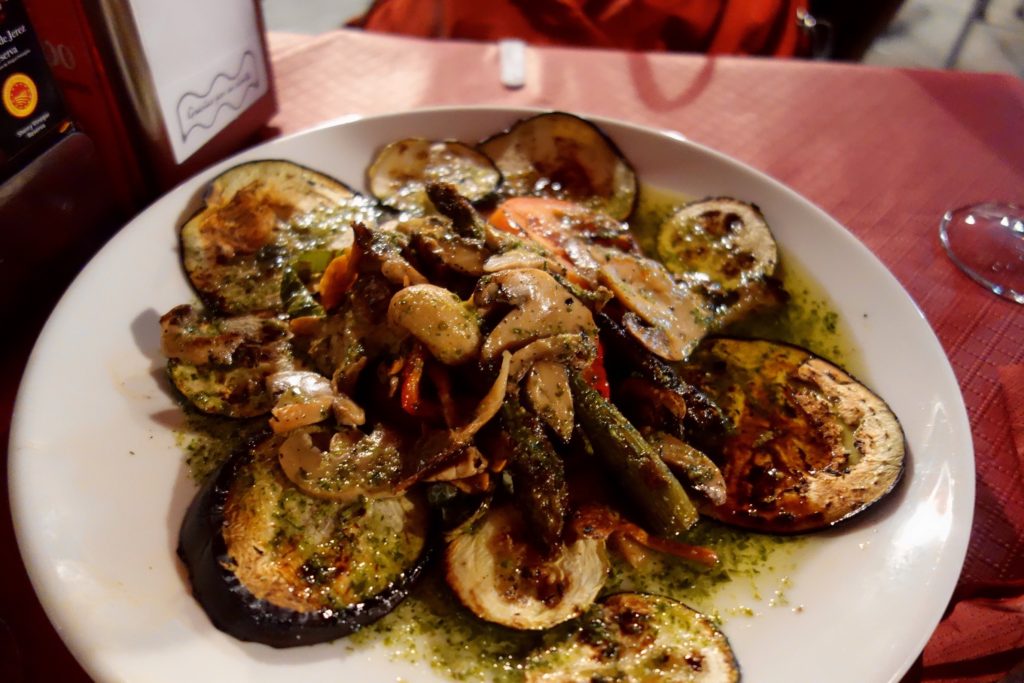 For dinner on our first night we ordered mains instead of tapas. We sat on the covered patio and a bunch of hyper dogs ran wild at our feet. This plate of roasted vegetables was so well done compared to what I was expecting from the minimal price.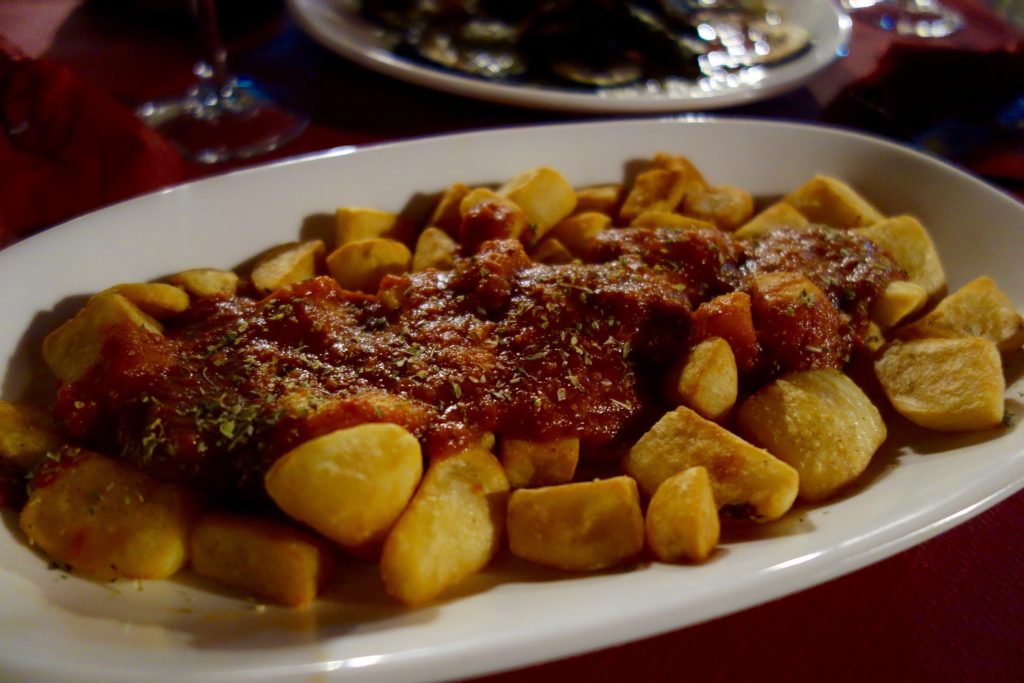 And we needed to settle our patatas bravas craving right away.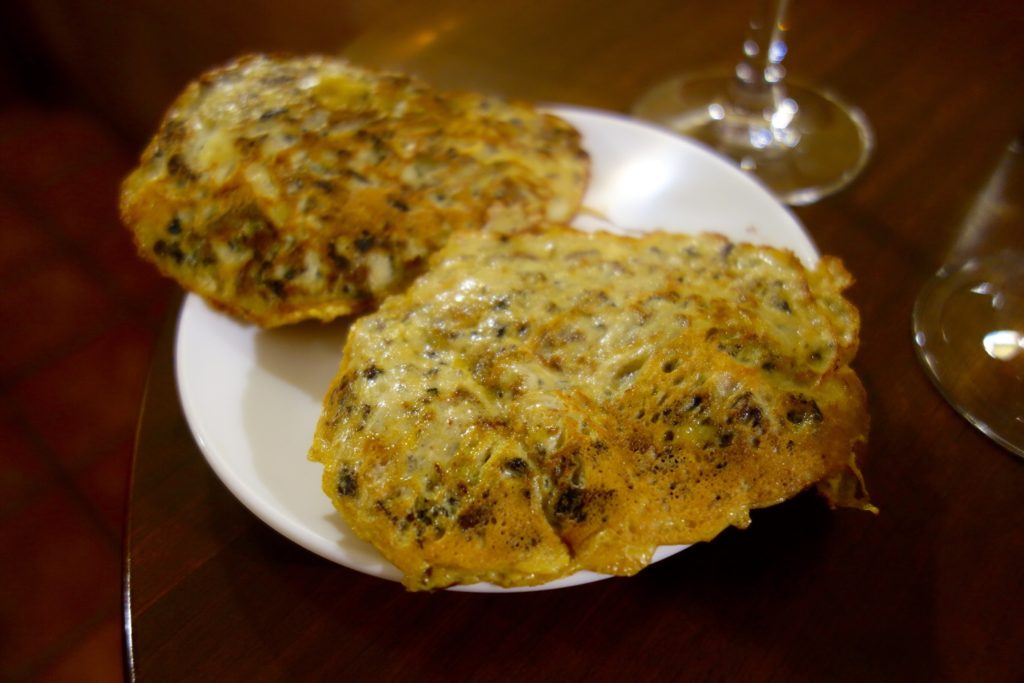 The following nights we tapas crawled around town. You could pay about 1.50 Euro for a hefty glass of wine and then be served a tapa for free. I was told that this specific locality was one of the last remaining places in Spain that will does high quality free tapas (not just olives). These were some kind of omellete.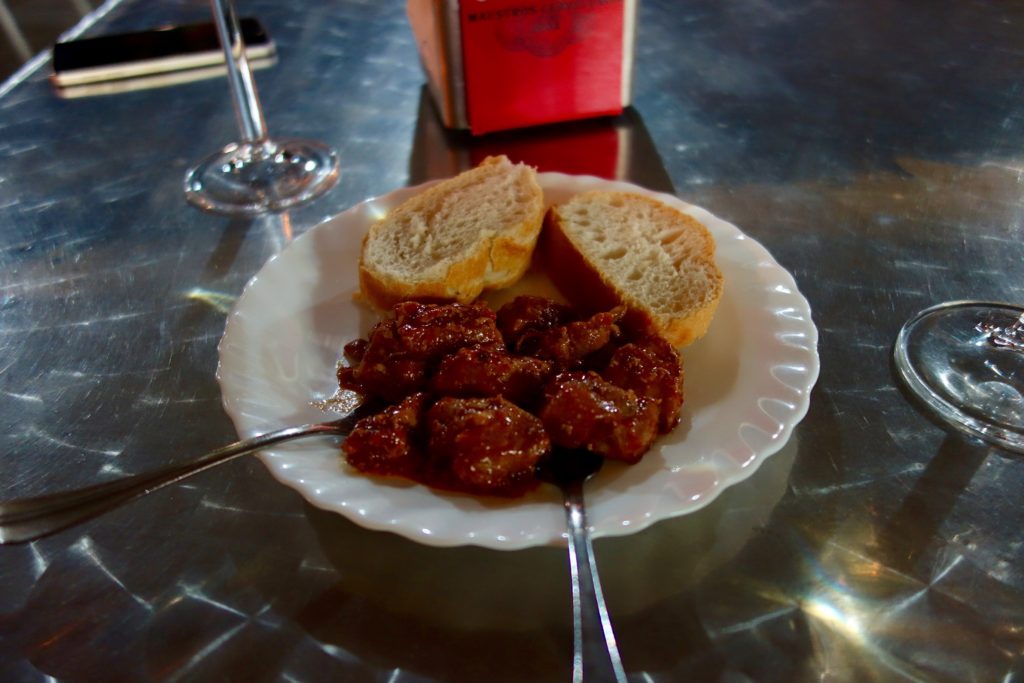 This was a pork or chicken stew. We'd end up paying 6 euro and be full from two tapas and two glasses of wine each.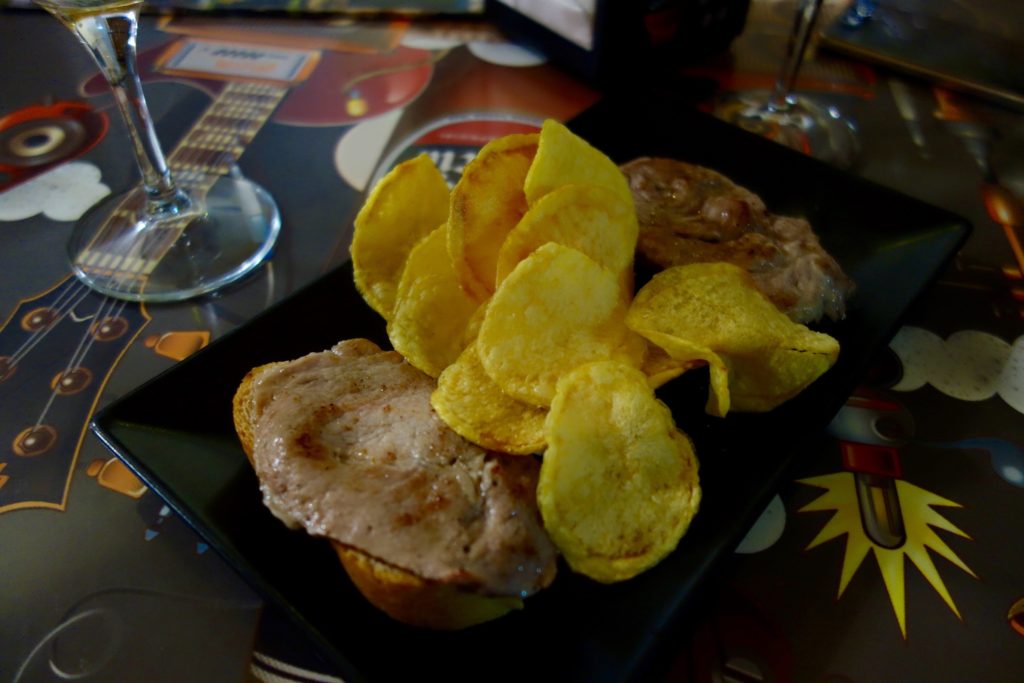 This was pork rashers on bread with some popped chips. At another old man bar we went to they served up Iberico jamon with each glass of wine. Mmm!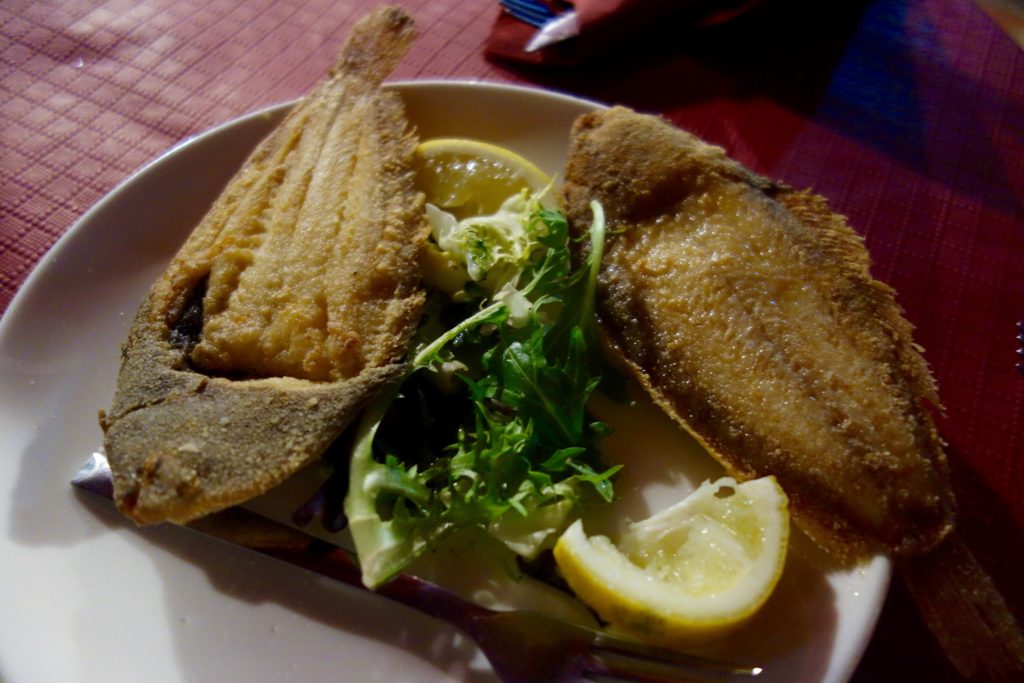 This was definitely the craziest tapa we got. Whole fried fish! It was so tasty and I really felt like I had won some lottery.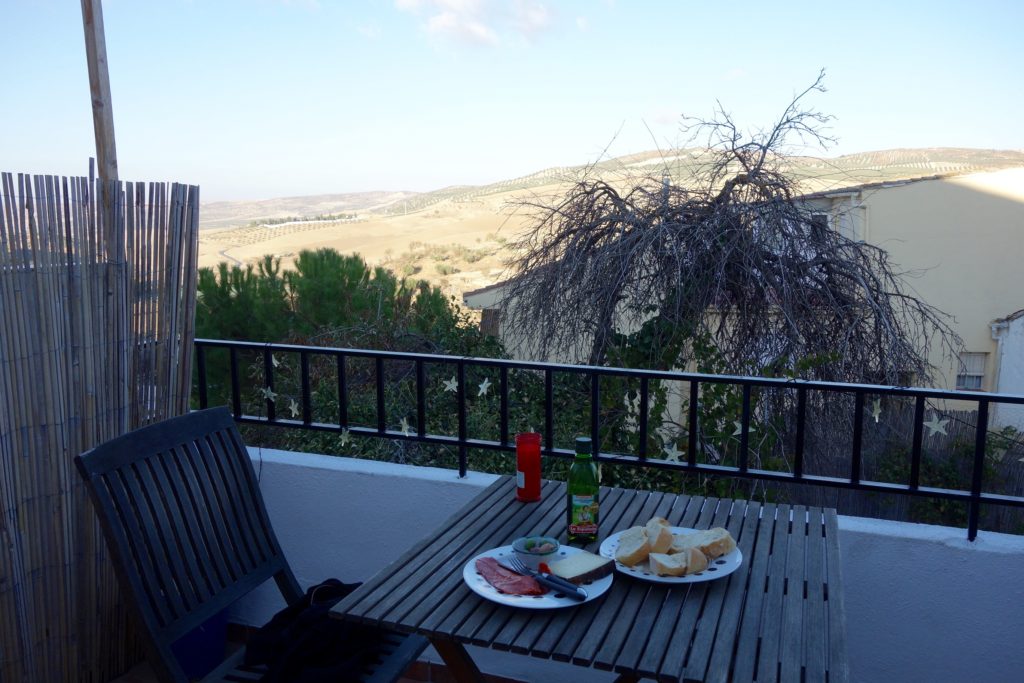 I'd definitely recommend this town for a relaxing couple days of eating and drinking.